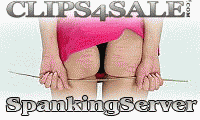 HD Quality, download / open direct wmv or mp4 files - please see info below
These video clips range in length
from 2 to about 5 minutes.
Our HD video clips are in HD
wmv or MP4 format.
The minimum standard is
1280x720 - 3000 kBit/s
For Apple iOS users: Please download VLC from the Appstore to view wmv.files and please be patient if the download takes a little bit longer due to the file size.
INFO:

all updated packages from December 2017 have only wmv or mp4 video clips. All the clips into the packages are NOT zipped.
Thus, our videos should be easily playable on ANY format and with ANY medium.

We are also working on equipping the previous packages with the wmv file, so no longer packed in zip date.

​
We show videos and pictures on the topics of Spanking, corporal punishment, flogging, whipping, caning, OTK, sadism, masochism and English discipline. These sites depict realistic scenes of Sex and eroticism and are not for kids. Spanking is a variety of sex play that stimulates the erotic fantasy of many people and plays a bigger role than we belive.